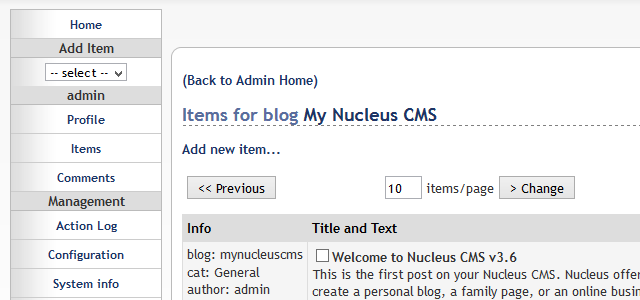 New! Version History
Nucleus v3.70 (September 22, 2014)
Future plans
They are dual development and support. Passive(3.x) and Positive(4.x).
Passive branch is 100% compatible nucleuscms.org and LMNucleus.
Version 4.00(Positive branch)
Will be released in August 2015
Version 3.80 / 3.90(Passive branch)
Under planning. V3 supports it in the long term.
Feature of 4.0
Summary :
http://sourceforge.net/p/nucleuscms/mailman/nucleuscms-global/
Commits :
https://github.com/NucleusCMS/NucleusCMS/commits/v4.0dev
fully PHP5 support
correct handling characters which encoded into multi byte
"locale" subsystem with many translation files (30 area and country supported)
step-by-step installer
fully PHP Database Object (PDO) support
based on SQL89 (trial for non-MySQL like SQLite is not yet)
framework for internationalization of skins/templates and plugins
Custamizeable admin area with skins/templates system
E-mail notification with non-ISO-8859-1 characters
support for image resampling
http://forum.nucleuscms.org/viewtopic.php?t=21060
Important topic.